1. What size stove do I need?
Heat Output Estimator
(Room Length (m) × Room Width (m) × Room Height (m)) ÷ 12 = Output (kW)
Important
The figures produced are intended to give an approximate guide only. Please check with a qualified person to ensure you pick the correct kW output for your size of room. The values displayed are based on an outside ambient temperature of -1°C. Please select a slightly higher output than the form suggests to increase heating in colder conditions.
This page does not provide an exact classification for appliance output, but can be used to give you a good idea. The ability of a stove to heat your room can be affected by other factors which you will need to take into consideration such as a larger than usual number of doors or windows (including patios) in the room, or other draft sources. In these cases you may need to look at a stove with a greater output.
Building Regulations state that if you install a stove or fire that has a output rating over 5kW a ventilation brick will need to be installed in your room.
2. Chimney and flue systems
Please note that the flue system information provided within this section should be used as a guide only. We strongly recommend that you acquire a professional fireplace survey prior to the purchase and installation of any stove or fireplace.
Once you know what chimney type you have you will need to check the integrity of the chimney stack and may need the appropriate chimney flue liner. Our Twin Wall section explains the difference between these liners and will help you understand what grade of chimney liner is required for your chimney and flue system.
| | | | |
| --- | --- | --- | --- |
| Class 1 | Class 2 | Pre Cast Flue | No Chimney |
| | | | |
| Commonly used in houses pre-dating 1960. Class 1 chimneys are identified by 7" (180mm) diameter, or greater flue. Ensure the existing chimney is structurally sound before any installation procedure. | Used in either an older house, where the existing chimney has been lined by a proprietary steel flue, or a newer house with a steel flue built-in. This chimney type can be identified by a 5" (130 mm) diameter flue and a steel flue terminal. | Modern houses, built later than 1960, often have a pre-cast concrete chimney system, which is identifiable by a rectangular box section flue and a terminal, as illustrated in the picture. | Modern houses are often built with no chimney. This means that you can only use a modern decorative electric fire with up to 2kW heat output, a gas powerflue fire, or a flueless gas stove. |
What is Chimney Liner and what is it used for?
Stainless Steel Class 1 chimney liner is a flexible twin-skinned liner, also known as 'Quattro'. Class 1 chimney liner has been designed for chimneys that have failed an inspection by a trained individual, or if the draw on the chimney is not performing efficiently.
Multi-fuel flue liner is used for relining traditional chimney stacks. The liner has a twin skin construction, with a corrugated outer skin and smooth inner. The inner and outer skins are held in place with the best triple-lock jointing system available. Multi-fuel flue liner is suitable for use with gas and oil fired installations, as well as for solid fuel.
Chimney Liners;
316/316 Grade Flue Liner
This liner uses 316 grade stainless steel for the inner and outer skins and is suitable for use on stoves burning the following fuels: gas, oil, coal, coke, seasoned dry logs, cured dry peat and some smokeless fuels. 316/316 grade flue liner has a 10 year guarantee (product replacement only).
904/316 Grade Flue Liner
A more robust liner, which uses 904 grade stainless steel for the inner skin and 316 grade stainless steel for the outer skin. This liner is suitable for use on stoves burning gas, oil, coal, coke, seasoned dry logs, cured dry peat and smokeless fuels. This is the most economical liner for use with all smokeless fuels. 904/316 grade flue liner has a 20 year guarantee (product replacement only).
904/904 Grade Flue Liner
Using 904 grade stainless steel for the inner and outer skins, this is the best chimney liner you can buy. Suitable for use on stoves burning gas, oil, coal, coke, seasoned dry logs, cured dry peat and all smokeless fuels and recommended for stoves with heavy usage, or if you are slumbering your stove overnight. 904/904 grade flue liner has a 20 year guarantee (product replacement only).
Top Plate And Top Clamp
The top plate and top clamp are used as a method of fixing the chimney liner to the top of the stack. It is necessary to remove the chimney pot, fit the chimney liner in place with the plate and clamp, and then refit the chimney pot once installed. The chimney liner passes through the hole in the plate and is gripped in place with the top clamp. For a secure fixing, it is recommended to use a top sleeve, which fits inside the top of the chimney liner and gives a solid inner for the top clamp to grip against.
Liner Adaptor
The liner adaptor is manufactured from 316 grade stainless steel. The adaptor is used to connect flexible chimney liner to the flue pipe at the base of the flue. The inner skin is slightly longer to prevent snagging and reduce strain on this joint when sweeping.
Increaser Liner Adaptor
The increaser adaptor is very similar to the standard liner adaptor. It is used to connect the flexible chimney liner to a 1" smaller diameter flue pipe at the base of the flue. The inner skin is slightly longer which prevents snagging and reduces strain on this joint when sweeping.
To connect the liner to the adaptor, you will require some stainless steel self tapping screws. Drill some pilot holes through the outer skin of the adaptor and secure the liner in place. Complete the joint by sealing between the liner and outer skin of the adaptor with fire cement.
On the inner of the adaptor there is a hole. This allows any moisture running down the inside of the liner to drain. The idea is that all moisture and deposits stay on the inside of the completed installation.
You will need access to the flue liner for sweeping purposes when using oil or solid fuel fired appliances. It is sometimes possible to sweep through the stove by removing the baffle plate at the top of the stove. If this is not possible, you will need to provide the access via a sweeping hatch in the stove pipe.
Multi-fuel or Woodburning stove?
The main difference between a multi-fuel and wood burning stove is that a wood burning stove is designed purely for the burning of wood, whereas a multi-fuel stove is designed to burn wood, along with other solid fuels, including coal, smokeless fuel, etc...
A clear physical difference between a multi-fuel and wood burning stove is the grate. Multi fuel stoves will normally have a grate which provides an airflow underneath the coal, or wood, as well as from above so it burns efficiently. Wood is usually burnt on a bed of ash and a wood burning stove only takes air from above to ensure that the wood doesn't burn too quickly.
To burn coal efficiently, it is recommended to clear ash. The riddling grate, available on some stoves, forces the ash fall into the ash pan, however, if your stove does not have a riddling grate, a poker can be used. Multi fuel stoves are also developed with ash pans. The ash pan is designed to catch the ash that falls from the grate. Wood-burning stoves do not have a removable ash pan.
Mutli fuel stoves are more popular than wood burning stoves, as they have the option of burning a variety of fuel types. Many stove models now offer an option to purchase either multi fuel, or wood burning conversion kits.
CENTRAL HEATING
The diagram below shows a typical layout for a vented solid fuel central heating system. It is important that there is a heat sink (such as a radiator or hot water tank) next in line from the stove and above the stove. In the picture below you will see that there are two circuits - one gravity fed circuit leading to the hot water tank (the first heat sink) and one pumped circuit for the rads. This means that even if the pump fails the heat from the stove boiler can still dissipate into the hot water tank.

There is a pipe stat fitted to the hot water circuit and set to 45 degrees. So the pump for the radiator circuit only comes on once the hot water cylinder has reached 45 degrees.

The diagram is for illustration only and should not be followed as the actual design for an installation.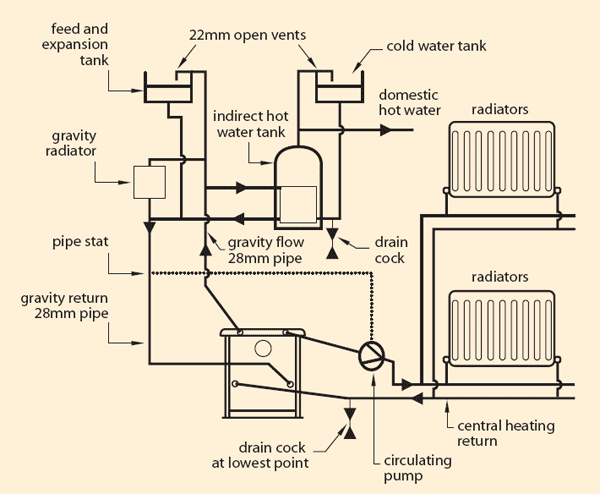 LINKED HEATING SYSTEM
1. I have an existing central heating system in my house run by an oil/gas boiler. I'd like to link up a woodburning boiler stove to my current system to reduce my heating bills - but is a central heating link up possible?
2. I'd like to implement a linked heating system, combining solar thermal panels for hot water in the summer, a wood burning boiler stove for hot water and heating in the winter, and a gas/oil boiler as backup - is this style of link up heating possible?

Many modern heating and hot water systems combine multiple heat sources. This allows you to take advantage of seasonal variations: for example in the summer solar panels can provide the majority of your hot water, whilst in the winter a boiler stove provides the hot water and heating.
A linked heating system (also known as link-up) is one where multiple heat sources are combined. Linked systems can be very flexible and can allow you to take advantage of seasonal differences in available power. For example a linked system allows you to use solar thermal panels in the warm months to provide hot water (when you do not need your heating on), but then switch over to a wood boiler stove to provide heating and hot water in the colder months when solar radiation is less.
A linked system is also ideal if you want to reduce your gas or oil consumption as it allows you to link in (for example) a wood boiler stove. When the wood boiler stove is going your gas/oil boiler will have less work to do and consequently you will use less gas/oil.
Creating a linked system is what you have to do if you would like to retrofit a boiler stove to an exsiting heating system. You may choose a small capacity boiler stove to simply supplement the heat from your current boiler, or you might consider a high output boiler stove that can provide for all your heating and hot water needs when it is lit.
A linked system allows you to have several heating appliances all providing heat for your house as needed. For example you might want to have a stove with a boiler providing hot water and powering your radiators, with a condensing gas boiler to top up the heat if needed and to provide hot water in the summer.

A linked system can allow you to use solar panels to provide hot water in the summer months and then switch over to wood / gas combination when it get's colder.

A linked system gives you the added flexibility of a backup heating system - if your wood heating is not providing enough heat then the backup gas or oil boiler kicks in.

A linked system allows you to join a wood boiler stove in to an existing heating system
WHAT IS A THERMAL STORE?
Put simply a thermal store tank is a large, well insulated, hot water tank, and forms the heart of your home heating and hot water system. A thermal store (or buffer tank) as the name suggests, stores up heat. Thermal stores are used extensively in solar systems where the heat from solar panels is stored in the large body of water, which then provides you with hot water during the times when the sun is not out.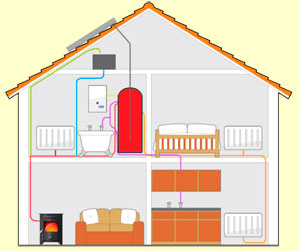 You can also heat your house using heat stored in the thermal store. You might run radiators or perhaps underfloor heating from your tank: underfloor heating is ideal for use with thermal stores because of the low loop temperatures. This means that you can have the heating come on even if your log boiler is not lit.
The thermal store also lets you link up different heating systems, most notably it lets you link in a stove with a backboiler. A woodburning stove with a backboiler is the perfect companion for solar thermal panels because in summer when you wouldn't dream of lighting your stove the panels provide your hot water and you don't need the heating. In the winter the stove is lit and providing hot water and heating, and the solar panel is contributing a little by raising the temperature of the water at the bottom of the tank (to around 30-40 degrees or so in my tank ) - every little helps.
You can of course plug in just about anything else to the the thermal store: another stove, a wood pellet boiler, a conventional boiler for backup, electric heating elements (again as a backup source of heat), ground or airsource heat pumps, etc. The thermal store is the central point in your heating and hot water system - all your heat sources connect to it and all your heating is taken from it.
One of the big tricks of thermal store is to improve and maintain good stratification. Put very simply the idea is to keep the water at the top of the tank hot, and the water at the bottom of the tank cool, with as little mixing as possible between the two layers.
A wood stove will work best when burning quite hard - wood likes a good supply of air to the firebox. But burning your stove hard can mean your house getting too hot. The other advantage of using a thermal store in conjunction with a relatively large boiler stove is that it lets you batch burn: you fill up the stove and burn it relatively hard and it heats up (or charges) the thermal store. You now have hot water which you can use as needed. Of course this can also let you use a larger stove than you might have before which lets you use longer logs (less time spent processing and moving your wood) and lets you burn the stove less often.